TNVC Night Fighter Armed Professional
June 28, 2019 @ 6:00 pm

-

June 30, 2019 @ 11:30 pm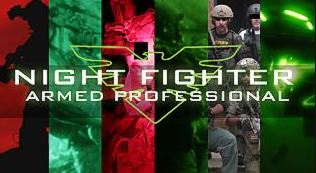 Don't have night vision, but still want to train? No problem. We offer rental NVG's, Helmets, Mounts, and Lasers for an additional fee. If you decide that you want to purchase the gear you rented during the class, your rental fee will go towards the purchase of the new product.
Night Fighter: Armed Professional is a restricted class for active duty Military, Law Enforcement, Security Personnel, and vetted civilians such as Night Fighter 101 Graduates (contact training@tnvc.com for vetting requirements).
Unlike Night Fighter 101 and other "Level 1" Night Vision based courses, Night Fighter: Armed Professional is designed to provide advanced instruction to professional end-users who have already mastered the fundamentals of low/no-light operations. This course focuses on building upon students' already established skillsets in both individual and team settings in preparation for real world operations. Students will execute a variety of tactical tasks including team movement and communication, movement to contact/OBJ, stealth search to contact, target discrimination/engagement, vehicle work, and CBRN integration, as well as mission planning and coordination.
Subjects Covered
Safety Brief
Gear Discussion
Physiology of Night Vision
Zeroing Lasers
Square Range Shooting Drills
Reloads and Transitions
Moving and Shooting
Improvised Shooting Positions
Equipment Failure Drills
White Light Integration
Team Movement
Roll Player Scenarios
Live Fire CQB
Visible Lasers
Pro Masks CBRN
Communication
IFF Signaling
Vehicle Operation
Thermal Imagers
Prerequisites
In accordance with ITAR Regulations, only U.S. Citizens will be accepted to participate in TNVC courses. NO EXCEPTIONS. This class is restricted to current active duty U.S. Military, Law Enforcement, and Security Contractor personnel. Active Agency/Unit/Company affiliation credentials are required. This is a highly physical class where students are encouraged to be in good physical condition.
Ammunition
1,000 rds Rifle
300 rds Pistol
Gear
Serviceable Carbine or Rifle

Weapon Light
Red Dot (preferable Night Vision compatible)
Infrared Laser (can be rented for additional fee)
Weapon-Mounted IR Illuminator (recommended)
Sling

Serviceable Pistol

Night Sights or MRDS (preferred)
Weapon Light

Night Vision Goggle (Gen3 preferred) Rental Gear Available
Ballistic Helmet with Night Vision Mount
Level 3 or 4 Rifle Plates and Appropriate Soft Armor
Pro Mask and 2 New Filters
Hand Held White Light
Ballistic Eye Protection
Ear Protection
Maintenance/Cleaning Kit for Weapons
Minimum of Five (5) Serviceable Rifle Magazines
Minimum of Three (3) Serviceable Pistol Magazines
Pistol Holster and Magazine Pouches that will retain items during movement

Must hold two (2) each Rifle and Pistol Magazines on Person

Sufficient Batteries for all your equipment
IFAK or BOK on Person
Clothing suited to strenuous activity as well as being seasonally appropriate
Rain Gear / Cold Weather Gear (seasonal)
Any other Agency / Unit-specific tactical gear used on normal operations / call-outs
Snacks, Energy Drinks, etc.
*This class requires a ballistic shoot house. If you are interested in hosting a class and your agency does not have a ballistic shoot house, contact training@tnvc.com to make arrangements. We will also require a separate indoor/outdoor training structure to conduct non-live fire role player scenario drills.
Related Events